June 14, 2017 | Posted in Uncategorized | By Les Judd
Comments Off on The Green City Challenge Meet & Greet Party
Save the date!
On Monday, September 25 from 6:30 – 8:30 pm the Green City Challenge Meet & Greet Party will take place at Raymour & Flanigan, 1961 Broadway at West 66th Street in Manhattan. You don't want to miss this event! This is your chance to meet the members of the Green City Challenge Board of Directors, to learn about volunteer opportunities with Green City Challenge, and to find out about all the exciting things we are doing.
The suggested donation is $20 per person. You can make a reservation by sending a message to Les@greencitychallenge.org or by making a donation on-line at www.greencitychallenge.org or by sending a check to Green City Challenge, 474 West 238th Street, #6i, Bronx, NY 10463.
We hope to see you on September 25. Until then, have a great summer!
March 22, 2017 | Posted in Uncategorized | By Jerrod Delaine
Comments Off on The Future of Urban Farming Might be Suburban Farming
When the urban farming startup BrightFarms first launched, it envisioned building its hydroponic greenhouses directly on grocery store roofs and on vacant city lots. Now, it says that the smartest place to grow food for cities may be just outside of them.
The company's newest site will be in the town of Wilmington, Ohio. With a population of only 12,459, it's not the target market. But it's near Dayton, Columbus, and Cincinnati, which together have a population over a million people.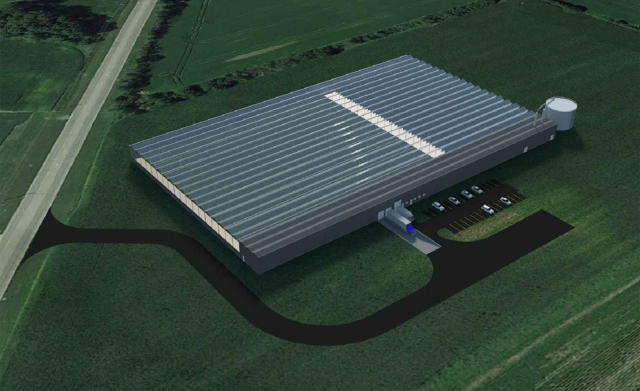 BrightFarms also has greenhouses in Bucks County, Pennsylvania; Culpeper County, Virginia; and Rochelle, Illinois—all also near, but not in, large cities. The new strategy lets the company avoid the costs and challenges of working on urban sites, while still providing a local version of foods like salad greens that would normally travel thousands of miles.
"Like most good strategies, it was driven by some painful experiences," Paul Lightfoot, CEO of BrightFarms, tells Co.Exist. "Basically, we had a couple of failures. We tried to develop a giant rooftop of a building in Sunset Park, Brooklyn, and we also tried to develop an environmentally soiled parcel of land in the city of Washington D.C., owned by the city."
In both cases, the landowners were eager for BrightFarms to build, and they had strong support from the communities and city leaders. But both sites had challenges. In Brooklyn, the roof needed complex engineering work that couldn't be completed on the startup's timeline; in D.C., the city had to do environmental remediation that also took longer that was commercially viable.
Both cities also had complex regulations that weren't created with urban agriculture in mind. "We found ourselves dealing with a regulatory framework that didn't understand us, and didn't have the ability to adapt to us," Lightfoot says. The projects were classified as "industrial" rather than agricultural, which triggered regulations that didn't fit.
In smaller communities, the experience was radically different. In Virginia, because it was considered an agricultural project, it was exempt from the typical permitting process. "I think we got the permit in a week," Lightfoot says. "In D.C., we spent a year getting it."
The company realized that even if it built outside city limits, it could still stay close enough that transportation would be negligible. BrightFarms sells its produce in 150 stores in the D.C. market, and even if its greenhouses were inside city limits, it would still require driving fairly long distances to make deliveries to all of the stores.
"Being in the city center is not logistically a benefit," Lightfoot says. "Being 30 miles out of the city is just as good as being in the city. The extra cost of building in a city has absolutely no benefit except for maybe shallow, fake marketing, but it has a real significance in terms of capital costs, and in some cases, operation costs as well, including utilities and transportation."
BrightFarms' greenhouses often make use of underutilized spaces: In Rochelle, Illinois, they've set up on an empty lot between a distribution center and a factory that was once farmland, then an industrial park.
Even though BrightFarms sometimes establishes its greenhouses near traditional farms, the startup isn't directly competing with the other operations because it's focused on tomatoes and greens that typically come from California or Arizona. The greenhouses grow the food with a tiny fraction of the water, and provide it fresher to customers. Less perishable crops, such as root vegetables and corn, are left to traditional farms.
BrightFarms plans to use the same model, building outside cities, as it moves forward. After closing a $30 million equity round in September 2016, it plans to open 14 more greenhouses over the next four years. [fastcoexist]
March 13, 2017 | Posted in Uncategorized | By Jerrod Delaine
Comments Off on Property tax breaks aim to help urban farms crop up
Up and down the state, property owners can receive tax breaks for allowing their unused, and often blighted, urban lots to transform into commercial or noncommercial farms under a law that went into effect in 2014. It hasn't yet resulted in a rash of urban farming, as just four property owners in the state have enrolled so far, including one in San Francisco. But state Assembly member Phil Ting D-San Francisco, wants to extend the law so more cities, and landowners, can take part.
"Urban farming needs more time to take root and help more Californians access nutritious food in their own neighborhoods," Ting said in a press release. "An urban farm can be an oasis. There is great interest to tame the concrete jungle with green spaces that transform blight into bounty."
Since the law was enacted, San Francisco, Sacramento, San Jose and San Diego have all passed local ordinances providing financial incentives to turn unused lots into urban agricultural zones for a range of uses, including vegetable farming, beekeeping and nonprofit teaching gardens. The law expires in 2019, and with AB465, Ting proposes extending it to 2029 to allow more cities and counties — which must have a minimum of 250,000 residents — to follow suit.
One of those is Los Angeles, which is working toward passing an ordinance. Unincorporated parts of Los Angeles County, as well as Santa Clara County, already offer the tax breaks.
To apply, property owners must allow farms to stay at least five years to receive the tax break and have property of 0.1 acre to 3 acres in size, with no dwellings on-site. The law assesses the plots' property value at about $11,000 per acre, the same as irrigated farmland, which can greatly reduce the owner's property taxes.
In San Jose, a property owner with two adjacent parcels has just turned the land over to Valley Verde, a nonprofit that gives low-income families tools and training to grow their own vegetables in planter boxes.
"It's a win-win for the owners," said Art Henriques of San Jose's planning department. "And the nonprofit gets at least a five-year opportunity to do something productive for some people in the community." [sfgate]
March 6, 2017 | Posted in Uncategorized | By Jerrod Delaine
Comments Off on Urban Farms Continue To Be On The Rise
The New York City urban farm has moved from a scene to a movement. Foodies, growers, chefs, non-profits and artists converge to get ever more creative in how to utilize space in the city for growing fruits and vegetables. Swale by artist Mary Mattingly has taken to putting a farm out on the water. Chicago's O'Hare airport has installed an aeroponic, or vertical, farm. From hotels to restaurants, urban farming so far has been highly specialized and for hyper-local food distribution like Brooklyn Grange's two food markets and neighborhood CSA. "This is truly seed-to-plate agriculture, with no use of fossil fuels, people walk over from where they live, and go home with produce that was picked that morning." says Anastasia Cole Plakias, Brooklyn Grange's vice president and founding partner.
The main principles behind urban farming is providing local residents with fresh food, creating community around growing food, reducing concrete heat in urban areas, and encouraging people to reconnect with the earth. With initiatives like NYC's Farm School, the urban farming movement is pushing towards democratizing the process and generating a mass grass roots support so that urban farming becomes easy and prolific. The USDA has recently introduced an Agriculture Toolkit that provides information about funding, business planning and resources for starting an urban farm. In October 2016, a new publication provides information on how to build high tunnels (the greenhouses that extend growing into the winter season) in urban areas.
Progress and growth isn't limited to New York City. It is global – from Bangkok, Milan, Uganda, Brazil, urban farming is becoming an alternative and solution for making food available to growing urban populations.

Chicago is seeding a burgeoning urban farming landscape. Leading the charge is LaManda Joy of the Peterson Garden Project. LaManda's bio reflects the kernel of an idea that blossomed into a mission that is now being widely recognized, and awarded, for success in the Chicago urban farm movement. She is a master gardener, author, educator and she is passionate about urban farming being a catalyst for change. PSFK caught up with her about her thoughts on urban farming and how it is progressing.
PSFK: How is urban farming different from 5 (or longer) years ago to today?
LaManda: Urban farming is certainly getting more attention that it was 5-10 years ago. It used to be more of a fringe thing but is now becoming more mainstream. It seems that it has grown from a novelty to a more viable option for food production… not that it has "arrived" by any means. There are so many issues with acquisition and use of urban land. And, my personal bandwagon, not enough people know how to grow food so there's that. Plus urban farms are businesses so you need a grower who also has business acumen (or a partner) to make their efforts profitable. It is definitely a work in progress but it has come a long way.
An interesting side note – the famous landscaper Jens Jensen… when he was building Chicago parks at the turn of the last century (1900's) put food gardens in each of them because he was worried that urban children wouldn't know where their food was coming from. Ironically, most food was grown very close (even inside) urban areas at that time. So the concept of "urban farming" is really quite old and, at least in the post-industrial age, food security and awareness has always been a big concern.
PSFK: Has your approach or perspective changed from when you started?
LaManda: Community and individual food gardens get lumped in with urban agriculture but don't get the attention they deserve. In most community gardens, the food is grown for individual use, not for retail. The needs of the urban farm and the urban garden are "exactly the same but different" – land, someone who knows how to grow food, resources. But the outcome is different. Interestingly, this hasn't changed at all in the decade I've been working in this realm. Nor has my approach – I believe that teaching people to grow food is one of the best things you can do and that's the mission of Peterson Garden Project, too.
PSFK: What do you see as the future of urban farming? What do you personally want to do, what's in store for Peterson?
LaManda: For urban farming to really take off there has to be money behind it. We've seen success with various hydro and aquaponics businesses that have the funding to scale, have a supply chain, etc. For the "mom and pop" urban farmer, farming is the same no matter where you do it – lots of hard work with no guarantee of return due to mitigating factors – weather, economy, sales, etc. So, like any business, urban farming is maturing and the real potential for it is becoming more obvious. For Peterson Garden Project, we work on a nonprofit model. I'm working on a social enterprise project that will allow home and community gardeners the opportunity to grow successfully. Like many other nonprofits in this sector, we're realizing that funding is a challenge for small organizations and creativity is required.
PSFK: What do you think people's attitudes are towards urban farming?
LaManda: I worry that urban farming is "precious" in that – to make it viable in the current model – high-end restaurants and farmer's markets are the biggest outlets with, often, premium pricing. I wish urban farming could be more democratic and available to everyone. That's why I love teaching individuals and families how to grow food because it levels the playing field a bit more. There are amazing groups in Chicago and elsewhere working on urban farming and gardening as solutions to neighborhood blight and food deserts. I wish there were more, and easier, funding available for this corner of the urban agriculture world. I see a sad discrepancy in urban farming having to do with class and wealth.
PSFK: Do you think urban farming will save us in the Zombie Apocalypse?
LaManda: It is funny you say this! I have a concept I call "The Joy/Apocalypse Spectrum" – on one end (Joy) you have people who grow food purely for the joy it brings them, they have no need, no financial constraints. On the other you have the "oh shit" factor – nuclear war, civilizations falling apart, supply chains ceasing to exist. The thing is – food gardening is good on both ends! Most gardeners fall somewhere in the middle – although I know some prepper types who are closer to the apocalypse side of the spectrum. In my book, I quote Geoff Lawton (a famous permaculturalist) who said "All the world's problems can be solved in a garden." And I know, from personal in-depth experience, that this is very true.
So no matter where urban farming is going, it's a good thing.
One thing that I think is important to address is the local nature of urban farming. Farms (and gardens) in cities really cater to neighborhoods. In our project, we have six Pop-up Victory Gardens in different Chicago neighborhoods. Even though I think of it as one big program, the gardeners think about it as it relates to them – how far it is from their house, the neighbors they know, who will help them water, etc. With small-scale urban farming, the supply chain is often whomever is close by – either a farm stand customer or a local restaurant. From this perspective, I think urban farming and gardening is tremendously important because it gives people a chance to see what growing food really looks like. You know they say a picture is worth a thousand words, well seeing a plant growing and fruiting is worth that, too. The ah-ha moments I've seen on people of all ages is always a joy. We, as a country, really need to connect more with each other and our food source so, as an educational/awareness raising exercise, urban farms and gardens are critical.

February 6, 2017 | Posted in Living Green, Uncategorized | By Jerrod Delaine
Comments Off on 10 Trends in Urban Gardens
In the last year, the urban gardens that have really grabbed people's attention on Houzz have a number of characteristics in common. All are stylish, contemporary and maximize space for outdoor living. Many have calming color palettes, such as deep green, white and charcoal, and — no surprise — are expertly designed to carve out privacy in crowded city lots.
Location is the most notable common thread of the most popular urban backyard photos uploaded and saved to ideabooks in 2016. Hats off to London's landscape architects and garden designers who took 8 out of the top 10 urban gardens.
10. Lush backyard getaway. This leafy retreat in the Pimlico neighborhood of London feels hidden, thanks to a slatted screen at the back of the garden and mature trees, vines and shrubbery on either side. Bamboo, grown in brick planters toward the back, offers a quick-growing screen for urban gardens.
9. Living wall. Vertical gardens have been popular on Houzz for the past few years, but this walled London courtyard is a particular standout. With just enough room for a cafe table and chairs, the narrow courtyard left little space for large-scale potted plants. Covering the wall with vertical planting pockets makes room for growing a diverse array of ferns, vines and perennial flowers and creates a verdant backdrop.
8. Sleek lines. This favorite garden proves that with a creative design, even an oddly shaped, sloping lot has enormous potential. Working with the London backyard's natural gradient changes, garden designer John Davies created a series of terraces and planting beds so that the resulting view from the ground floor is one of lush foliage layers. Lights washed over specimen plants and soft lighting from the fountain create an inviting atmosphere after dark.
Related: Shop for Outdoor Fountains
7. Layered garden. This peaceful garden designed by Charlie Albone won a Silver-Gilt Medal at the 2016 Chelsea Flower Show and resonated with Houzzers worldwide. The formal structure of symmetrical planting and clipped boxwood hedges provide balance with the exuberant purple, white and magenta blooms.
6. Urban cool. Dark decking, river rocks and black mondo grass give a chic, moody look to this London backyard. We've seen black being used in exterior design over the last couple of years, and if the number of times this London backyard has been saved by Houzz users is any indication, it's not going out of style.
5. Backyard lounge. This stylish retreat in Hampstead, London, would be the perfect place to relax on a sunny afternoon with a group of friends or family. Using artificial turf instead of a traditional lawn cuts down on maintenance and frees up more time to enjoy the garden.
4. Sunken patio. This sophisticated outdoor lounge, complete with daybeds and a modern fireplace, would look right at home outside one of London's chicest spas. Instead, the space is a private backyard behind an Islington home. Dark wood fencing and bright foliage enclose the sunken patio to create a private retreat.
Related: Find a Fire Pit for Your Backyard
3. Outdoor room. Another award-winning garden from the 2016 Chelsea Flower Show, this outdoor room designed by Hay Joung Hwang offers plenty of inspiring ideas for Houzz users.Creating a semienclosed space outside — this one is made of three walls and a ceiling — would be a useful extension off the home for an urban garden. In warm weather, one could enjoy eating outside under a canopy of trailing vines. Even on a cloudy day, the outdoor living room would feel cozy and inviting with a fabulous view of romantic, cottage-style perennial beds.
2. Backyard pergola. Designed for outdoor entertaining, this garden in South West London offers an alfresco dining area and shaded lounge thanks to the wooden lattice. It's perfect for relaxing with a cool drink on a summer afternoon. City planning departments have been known to allow homeowners a few extra feet of wooden lattice on their perimeter fences above the maximum height limit. In a tight city lot, an extra few feet of lattice can add much-needed privacy while still allowing light into the garden.
1. Walk on water. It's no surprise that Houzz users found this urban backyard to be inspiring. Stepping out from a London flat and into this tranquil retreat would feel like being transported on a mini vacation from city life. The lotus pond, symmetrical tree backdrop, and soothing colors of green, gray and deep purple all evoke a sense of calm.