April 4, 2018 | Posted in Uncategorized | By Les Judd
Comments Off on Plastics, Plastics Everywhere We Look!
We live in a throw away society. Most of the things we buy every day are made from plastic.
The plastic water bottles, plastic packaging in the items we buy on-line, the plastic packaging with personal care products, toys, tools, household items, all add up to a lot of plastic! This plastic is mostly thrown in the garbage after only one use and either sent to a landfill, burned in an incinerator, or ends up in the ocean, where it slowly decomposes and becomes a health threat to marine life.
Of course, plastic is made from oil, a fossil fuel. When it is burned, it produces greenhouse gases which in turn contribute to climate change. It's true that many kinds of plastic can be recycled, but a very small percentage of the total is actually recycled. A large amount of it ends up as litter and eventually in the oceans, where it kills marine life. Even if you want to ignore the environmental consequences of plastic garbage, you can't ignore the fact that plastic containers expose consumers to dangerous levels of BPA and other endocrine disruptors, which cause cancer and other deadly illnesses.
What can we do about this problem? We can minimize our exposure to plastics by consciously avoiding products made from plastic! Instead of buying plastic bottles of water, disposable razors, disposable utensils, disposable plastic plates, disposable plastic cups, we can fill our reusable metal water bottle with filtered tap water, buy re-usable razors, and use reusable metal utensils, ceramic plates and cups, etc. Is that really so hard to do?
The Earth Day Network has a new campaign to End Plastic Pollution. They have lots of cool educational materials you can use for yourself or in the classroom. Visit www.EDN.org for more information.
September 5, 2017 | Posted in Live Green, Uncategorized | By Les Judd
Comments Off on Hurricane Harvey: What Does it Mean for New York City?
Hurricane Harvey: What does it Mean for New York City?
As I write this article, Tropical Storm Harvey, downgraded from a category 4 hurricane just a couple of days ago is pummeling south Texas with torrential rain. The residents of Houston and the surrounding area are suffering from catastrophic flooding. Other than watching the drama unfold on TV, giving money to rescue efforts, and praying for the lives and the well being of everyone affected, what can we do here in New York City? What conclusions or lessons should we draw from this tragedy?
First of all, it is important to note that the City of Houston has grown tremendously over the last 25 years or so. In a very short period of time, the city has been paved and built up in a manner that is unsustainable. Houston is surrounded by many rivers and bayous. When it rains, the water should drain into the rivers and bayous and go into the Gulf of Mexico. However, because of all the building in recent years, excess water has no place to drain and it just sits in the streets, causing flooding. Scientists predict that storms like Harvey will occur more frequently and be more devastating than ever in the coming decades.
Is New York City vulnerable to a storm like Harvey? What is NYC doing to reduce the chances that we would suffer the same kind of flooding and devastation that Houston is suffering? Fortunately, New York City is doing a lot of good things to make it less vulnerable to storms in the future. There is a massive green infrastructure program going on throughout the five boroughs of New York City. Things like green streets, bioswales, green roofs, expanded tree pits, and similar structures are being built in areas that tend to flood easily.
For more information on the NYC Green Infrastructure Program, visit www.nyc.gov/html/dep/html/stormwater/using_green_infra_to_manage_stormwater.shtml
The NYC Green Infrastructure Program is not only helping to make NYC more green in a literal sense, but it is also helping to make NYC more resilient and resistant to flooding.
GCC News:
You are invited to the Green City Challenge Back to School Party on Monday, September 25 from 6:30 – 8:30 pm at Raymour & Flanigan, 1961 Broadway at West 66th Street in Manhattan. We are excited to introduce a revised version of the What's the Watts Challenge and to tell people about our new initiative to bring Green City Challenge into Middle Schools in the Bronx and Manhattan.
Please make your reservation now at www.greencitychallenge.org/rsvp or send a message to les@greencitychallenge.org or call 718-530-5074.
June 14, 2017 | Posted in Uncategorized | By Les Judd
Comments Off on GreenCityChallenge Back to School Party
March 22, 2017 | Posted in Uncategorized | By Jerrod Delaine
Comments Off on The Future of Urban Farming Might be Suburban Farming
When the urban farming startup BrightFarms first launched, it envisioned building its hydroponic greenhouses directly on grocery store roofs and on vacant city lots. Now, it says that the smartest place to grow food for cities may be just outside of them.
The company's newest site will be in the town of Wilmington, Ohio. With a population of only 12,459, it's not the target market. But it's near Dayton, Columbus, and Cincinnati, which together have a population over a million people.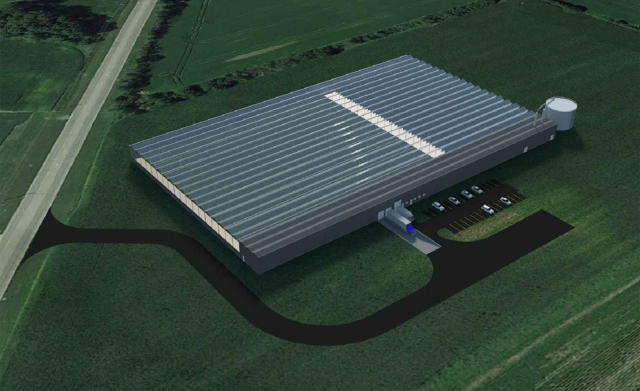 BrightFarms also has greenhouses in Bucks County, Pennsylvania; Culpeper County, Virginia; and Rochelle, Illinois—all also near, but not in, large cities. The new strategy lets the company avoid the costs and challenges of working on urban sites, while still providing a local version of foods like salad greens that would normally travel thousands of miles.
"Like most good strategies, it was driven by some painful experiences," Paul Lightfoot, CEO of BrightFarms, tells Co.Exist. "Basically, we had a couple of failures. We tried to develop a giant rooftop of a building in Sunset Park, Brooklyn, and we also tried to develop an environmentally soiled parcel of land in the city of Washington D.C., owned by the city."
In both cases, the landowners were eager for BrightFarms to build, and they had strong support from the communities and city leaders. But both sites had challenges. In Brooklyn, the roof needed complex engineering work that couldn't be completed on the startup's timeline; in D.C., the city had to do environmental remediation that also took longer that was commercially viable.
Both cities also had complex regulations that weren't created with urban agriculture in mind. "We found ourselves dealing with a regulatory framework that didn't understand us, and didn't have the ability to adapt to us," Lightfoot says. The projects were classified as "industrial" rather than agricultural, which triggered regulations that didn't fit.
In smaller communities, the experience was radically different. In Virginia, because it was considered an agricultural project, it was exempt from the typical permitting process. "I think we got the permit in a week," Lightfoot says. "In D.C., we spent a year getting it."
The company realized that even if it built outside city limits, it could still stay close enough that transportation would be negligible. BrightFarms sells its produce in 150 stores in the D.C. market, and even if its greenhouses were inside city limits, it would still require driving fairly long distances to make deliveries to all of the stores.
"Being in the city center is not logistically a benefit," Lightfoot says. "Being 30 miles out of the city is just as good as being in the city. The extra cost of building in a city has absolutely no benefit except for maybe shallow, fake marketing, but it has a real significance in terms of capital costs, and in some cases, operation costs as well, including utilities and transportation."
BrightFarms' greenhouses often make use of underutilized spaces: In Rochelle, Illinois, they've set up on an empty lot between a distribution center and a factory that was once farmland, then an industrial park.
Even though BrightFarms sometimes establishes its greenhouses near traditional farms, the startup isn't directly competing with the other operations because it's focused on tomatoes and greens that typically come from California or Arizona. The greenhouses grow the food with a tiny fraction of the water, and provide it fresher to customers. Less perishable crops, such as root vegetables and corn, are left to traditional farms.
BrightFarms plans to use the same model, building outside cities, as it moves forward. After closing a $30 million equity round in September 2016, it plans to open 14 more greenhouses over the next four years. [fastcoexist]
March 13, 2017 | Posted in Uncategorized | By Jerrod Delaine
Comments Off on Property tax breaks aim to help urban farms crop up
Up and down the state, property owners can receive tax breaks for allowing their unused, and often blighted, urban lots to transform into commercial or noncommercial farms under a law that went into effect in 2014. It hasn't yet resulted in a rash of urban farming, as just four property owners in the state have enrolled so far, including one in San Francisco. But state Assembly member Phil Ting D-San Francisco, wants to extend the law so more cities, and landowners, can take part.
"Urban farming needs more time to take root and help more Californians access nutritious food in their own neighborhoods," Ting said in a press release. "An urban farm can be an oasis. There is great interest to tame the concrete jungle with green spaces that transform blight into bounty."
Since the law was enacted, San Francisco, Sacramento, San Jose and San Diego have all passed local ordinances providing financial incentives to turn unused lots into urban agricultural zones for a range of uses, including vegetable farming, beekeeping and nonprofit teaching gardens. The law expires in 2019, and with AB465, Ting proposes extending it to 2029 to allow more cities and counties — which must have a minimum of 250,000 residents — to follow suit.
One of those is Los Angeles, which is working toward passing an ordinance. Unincorporated parts of Los Angeles County, as well as Santa Clara County, already offer the tax breaks.
To apply, property owners must allow farms to stay at least five years to receive the tax break and have property of 0.1 acre to 3 acres in size, with no dwellings on-site. The law assesses the plots' property value at about $11,000 per acre, the same as irrigated farmland, which can greatly reduce the owner's property taxes.
In San Jose, a property owner with two adjacent parcels has just turned the land over to Valley Verde, a nonprofit that gives low-income families tools and training to grow their own vegetables in planter boxes.
"It's a win-win for the owners," said Art Henriques of San Jose's planning department. "And the nonprofit gets at least a five-year opportunity to do something productive for some people in the community." [sfgate]