October 16, 2017 | Posted in Living Green | By Jerrod Delaine
Comments Off on Urban Kids with Asthma May Benefit from Green Space
Living near a park or other green space appeared to benefit city kids with severe asthma, especially older kids who were more likely to play outside on their own, according to researchers here.
For every 305 meters (about 1,000 feet) between home and park, children had 1 extra day of asthma symptoms. In addition, children who lived next to a park averaged 5 symptomatic days and children living 305 meters from the park had 6 symptomatic days, reported Kelli DePriest, a PhD candidate at Johns Hopkins University School of Nursing in Baltimore, and colleagues.
Among older children (ages 6-12), those living next to the park had an average of 5 symptomatic days, they said in a early presentation at the European Respiratory Society (ERS) International Congress.
Urban living is a known risk factor for asthma in children, as well as poorly controlled disease, but it is less clear if having access to a park or other green space, and utilizing these spaces, benefits city kids with severe asthma that is poorly controlled, DePriest noted.
"According to health department statistics, Baltimore has the highest pediatric asthma hospitalization rate of any city in the United States," she told MedPage Today. "That made it a good place to look at the impact of living close to a park or green spaces on asthma severity in children with pretty severe asthma."
Baltimore is a city of around 620,000 people, with levels of pollution similar to New York and Los Angeles, but slightly lower than those in London and Milan.
The study included 196 children, ages of 3 to 12 years, who had either visited emergency departments at least twice or had asthma-related hospitalizations during the past year.
"This group of children are predominantly African American, Medicaid insured, and their families are from a lower socioeconomic status, which means they represent a population at high risk for asthma-related mortality," DePriest said in an ERS press statement.
The children's parents were asked how many days their child had suffered with symptoms such as being short of breath, chest pain, and wheezing.
Researchers also mapped the distances between the children's home addresses and the closest green space.
The average length from home to the nearest park averaged around 250 meters, or about two city blocks. While some children lived immediately next to a green space, others were more than a kilometer (about 3,300 feet) away.
The effect seemed strongest for children ages 6 years and up, DePriest noted. "This might be because they have more freedom to choose where they want to go compared to younger children. These results are important because they provide further support for the benefits of city parks, and they suggest that the right building policies can improve children's health."
Mina Gaga, MD, PhD, ERS president-elect, said several possible mechanisms may be at play to explain the findings.
She noted that previous research has shown the air in urban parks, and other urban green spaces to be cleaner, than surrounding areas with few trees or plants. There is also the "hygiene hypothesis," that playing outside, and/or in the dirt, may help protect kids from allergy and asthma.
"It's also clear that getting exercise is beneficial to kids with asthma, so it appears to be a win-win situation to have parks nearby," said Gaga, who is with the Athens Chest Hospital.
Finally, she noted that time spent outdoors is "also very good for children's spirits. The definition of health includes happiness. So I think it is very important to be in an environment that is sunny, green, and nice."
October 2, 2017 | Posted in Eat Green | By Jerrod Delaine
Comments Off on New York City Continues to Lead on Food Waste Recycling
40% of food in America goes uneaten—it's an almost unbelievable fact. Here in New York City, around 20% of our waste stream is food waste. For decades, this food waste has been sent to landfills where it produces methane, a potent greenhouse gas and large contributor to global warming.
Instead of sending all this food to landfill we want to first prevent, then recover, and finally recycle any remaining food.
In recent years, New York City has shown incredible leadership on food waste recycling, and our apple cores and potato peels are starting to meet a better end.
Back in 2013, City Council passed two laws to jump start the recycling of food waste. These laws established a curbside organics collection pilot and organics diversion requirements for businesses. My colleague Eric Goldstein has written about the residential program and commercial requirements, if you want to learn more.
In the years since, New York City Department of Sanitation has been hard at work implementing these two laws. And it shows—with three great examples in the last few weeks alone.
First, as of yesterday, the New York City curbside organics collection program serves 2 million people, making it the largest program of its kind in the country. By the end of this year it will serve 3.3 million people and by the end of 2018, all NYC residents will have access to curbside organics collection or to a convenient drop off location. This is no small feat and the city's leadership and dedication on this issue will help drive development of food recycling infrastructure and hopefully inspire action by other cities as well.
Second, just last week, the NYC Commissioner of Sanitation Kathryn Garcia announced a proposal to dramatically expand the number of commercial food establishments required to separate their organic waste and send it for beneficial use. Currently the largest 350 or so commercial food establishments are required to separate their organic waste, but this new proposal will add approximately 2000 businesses. Department of Sanitation estimates this will increase diversion of organic material from the commercial sector to 50,000 tons a year.
Third, New York City's Department of Sanitation's Foundation for New York's Strongest hosted the first NYC Food Waste Fair yesterday. The Food Waste Fair—with more than 1000 people in attendance—sought to equip NYC businesses with the tools to address food waste. There was a great panel on food waste policy (including my colleague Mark Izeman, city staff, and experts), workshops for businesses, and dozens of exhibitors.
With the city's dedication on this issue and so many interested stakeholders, we look forward to building on good food waste recycling leadership and making similar strides on prevention and recovery to holistically address food waste. [NRDC]
April 9, 2017 | Posted in Green Building | By Jerrod Delaine
Comments Off on China Thinking Big on Going Green
What's also interesting is that China did this in half the time it took the U.S. – 10 years compared to 20 in America.
This is good news, considering that China is not only the world's largest construction market, it's also the largest emitter of greenhouse gasses. With a focus on meeting green building and other environmental standards, China has the potential to make steady progress toward meeting its Paris Climate Agreement commitments. Key to that is a big goal by the Chinese government to achieve 50% commercial green building certification by 2020. Big goals lead to big results. If met, China will represent half of the world's green building floor space by 2020.
The Opportunity
Building owners have been choosing wisely. In 2005, green buildings were just 2% of commercial construction in the U.S. Today, they are closer to 50%. We see a similar trend in China, with impressive adoption of the China 3-star rating system for green buildings.
More buildings will be needed to meet the massive influx of people moving into cities. In China alone, 300 million more people (equivalent to the entire U.S. population) will move to cities in the next 15 years. Since buildings consume 40% of the world's energy, we also know that these buildings need to be green. Clearly, the future of buildings and the future of sustainability go hand in hand.
New China Focus
This week, I traveled to China to attend the 13th Annual International Conference on Green and Energy-Efficient Building. I learned about new focus areas from Dr. Qiu Baoxing, president of the Chinese Society for Urban Studies and former vice minister for the China Ministry of Housing and Urban and Rural Development.
Dr. Qiu has been one of China's earliest and strongest visionaries for green building. He's now calling for more vertical gardens to be designed into Chinese city buildings. Imagine building facades that incorporate plants and trees as tall as they rise. No matter if you live or work on floor 1 or floor 40, you would see nature outside in the form of natural vegetation. This type of design would be as much be eco-cool and eco-beautiful as it would be eco-functional. Vertical gardening would introduce nature into otherwise concrete urban centers. More vegetation would naturally absorb CO2 pollutants and convert them to oxygen and according to Dr. Qiu, help address the outdoor air pollution issues in China.
The "Human Spirit" in Green Buildings
Throughout the years, the China conference has been a valuable convening point for green buildings. This year, Dr. Qiu proclaimed that green buildings must embrace the "human spirit." I couldn't agree more, and was pleased to present to the nearly 1,000 people gathered that we have new scientific evidence from The COGfx Study* series that green buildings not only save energy and water, they also improve human performance – they improve the health and productivity of people working in those buildings. This research by Harvard is changing the global conversation in the buildings industry.
By focusing on the human performance benefits of green building, in addition to the valuable energy and water savings, we can greatly expand the value proposition of green buildings. This can help accelerate sustainable building development in China and everywhere else. [HuffPo]
April 3, 2017 | Posted in Green Building | By Jerrod Delaine
Comments Off on Green building programs show big results for big buildings
Each year in Los Angeles, certified green buildings keep 319 million pounds of greenhouse gases out of the atmosphere — the equivalent of not burning 155 million pounds of coal or having the entire city go vegan for two weeks.
These findings from UCLA researchers, published today in Nature Energy, are part of the first study to examine the effectiveness of green building certification programs on a large scale. Researchers analyzed 178,777 commercial buildings using data from the L.A. Energy Atlas, a UCLA project that combines utility data, census information and details about buildings — their age, size and whether they're used for residential or commercial purposes.
"We found that with the labels there is a significant improvement in energy efficiency," said Magali Delmas, an environmental economist and member of the UCLA Institute of the Environment and Sustainability who co-authored the study with institute postdoctoral researcher Omar Asensio.
The energy supplied in buildings accounts for 8.8 gigatons of carbon emissions globally and one-third of global carbon emissions, the study notes. Compared to other commercial buildings, those certified by LEED, Energy Star and the Better Buildings Challenge saw energy savings improvements ranging from 18 to 30 percent, depending on the specific program.
That's good news for those seeking to reduce emissions and battle climate change, but, Delmas said, it comes with a major caveat: the programs had almost no impact on medium- and small-sized buildings, which account for roughly two-thirds of all commercial structures in Los Angeles.
The one-size-fits-all, engineering-heavy approach of major certification programs may not be a good fit for small building owners, said David Hodgins, executive director of the L.A. Better Buildings Challenge. A program with options that can be tailored to individual needs might work better.
Making small business owners aware of the program is another challenge. Hodgins thinks community groups, nonprofits, faith-based organizations and small business councils could play an important role in getting more to participate. "A lot of these smaller buildings are going to be family owned," Hodgins said. "Part of the pitch should be that we're going to make sure the building doesn't become obsolete so it will benefit your children and grandchildren."
Rives Taylor is a sustainable buildings expert with Gensler, an international architecture firm. He said that even among larger buildings, less than 10 percent commit to getting certified. But when they do, it makes a big difference in the results.
"There's absolutely no question that a third-party tool makes it happen," Taylor said. The external requirements and the reward of getting certified provide incentives for engineers and builders. Without them, important engineering details and building materials usually get sacrificed, he said.
Firms willing to invest in green buildings often see quick returns in the form of energy savings, recouping their initial investments within a couple of years, Taylor said. Building owners have also become more interested in how sustainable buildings affect employees' health. Such benefits can be hard to translate into numbers, but they have long-term effects for quality of life.
"You would think it would have been a no brainer," Taylor said. "But for the last 20 years, no one would believe that improving a building's air quality, daylight or views would do much for well-being. Only in the last handful of years have we seen data that starts to sway those who spend money."
That's where research like this new study can make a difference. UCLA's Delmas said having more concrete data — including information about energy use — is the first step to get more buildings to participate in green certification programs.
"We need more transparency," Delmas said. "If you don't know about your usage, how can you change it? If you don't know that your building is using 10 times more energy than the one next to you, how can you make adjustments?"
The study notes that the United Nations Environment Program and energy experts argue that the buildings sector has the largest potential to deliver long-term, cost-effective reductions.
For that to happen, certification programs will need to expand — a possibility that suffered a big setback with President Donald Trump's recent budget plan. Experts in green business and energy raised alarm that Energy Star was marked for elimination as part of the president's proposal to slash Environmental Protection Agency funding by 24 percent. But the budget process is just getting started, and many lawmakers expect the elimination of the popular program to face resistance in Congress, even among Republicans. [UCLA]
March 22, 2017 | Posted in Uncategorized | By Jerrod Delaine
Comments Off on The Future of Urban Farming Might be Suburban Farming
When the urban farming startup BrightFarms first launched, it envisioned building its hydroponic greenhouses directly on grocery store roofs and on vacant city lots. Now, it says that the smartest place to grow food for cities may be just outside of them.
The company's newest site will be in the town of Wilmington, Ohio. With a population of only 12,459, it's not the target market. But it's near Dayton, Columbus, and Cincinnati, which together have a population over a million people.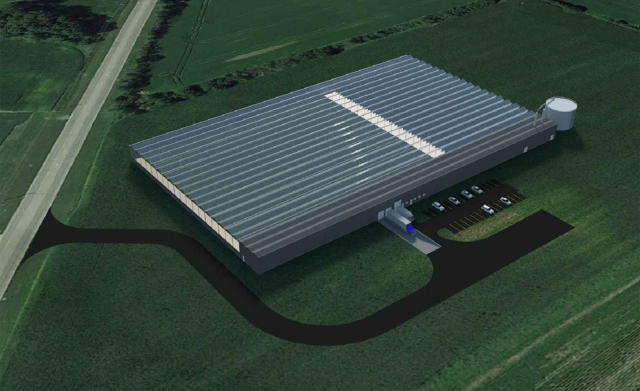 BrightFarms also has greenhouses in Bucks County, Pennsylvania; Culpeper County, Virginia; and Rochelle, Illinois—all also near, but not in, large cities. The new strategy lets the company avoid the costs and challenges of working on urban sites, while still providing a local version of foods like salad greens that would normally travel thousands of miles.
"Like most good strategies, it was driven by some painful experiences," Paul Lightfoot, CEO of BrightFarms, tells Co.Exist. "Basically, we had a couple of failures. We tried to develop a giant rooftop of a building in Sunset Park, Brooklyn, and we also tried to develop an environmentally soiled parcel of land in the city of Washington D.C., owned by the city."
In both cases, the landowners were eager for BrightFarms to build, and they had strong support from the communities and city leaders. But both sites had challenges. In Brooklyn, the roof needed complex engineering work that couldn't be completed on the startup's timeline; in D.C., the city had to do environmental remediation that also took longer that was commercially viable.
Both cities also had complex regulations that weren't created with urban agriculture in mind. "We found ourselves dealing with a regulatory framework that didn't understand us, and didn't have the ability to adapt to us," Lightfoot says. The projects were classified as "industrial" rather than agricultural, which triggered regulations that didn't fit.
In smaller communities, the experience was radically different. In Virginia, because it was considered an agricultural project, it was exempt from the typical permitting process. "I think we got the permit in a week," Lightfoot says. "In D.C., we spent a year getting it."
The company realized that even if it built outside city limits, it could still stay close enough that transportation would be negligible. BrightFarms sells its produce in 150 stores in the D.C. market, and even if its greenhouses were inside city limits, it would still require driving fairly long distances to make deliveries to all of the stores.
"Being in the city center is not logistically a benefit," Lightfoot says. "Being 30 miles out of the city is just as good as being in the city. The extra cost of building in a city has absolutely no benefit except for maybe shallow, fake marketing, but it has a real significance in terms of capital costs, and in some cases, operation costs as well, including utilities and transportation."
BrightFarms' greenhouses often make use of underutilized spaces: In Rochelle, Illinois, they've set up on an empty lot between a distribution center and a factory that was once farmland, then an industrial park.
Even though BrightFarms sometimes establishes its greenhouses near traditional farms, the startup isn't directly competing with the other operations because it's focused on tomatoes and greens that typically come from California or Arizona. The greenhouses grow the food with a tiny fraction of the water, and provide it fresher to customers. Less perishable crops, such as root vegetables and corn, are left to traditional farms.
BrightFarms plans to use the same model, building outside cities, as it moves forward. After closing a $30 million equity round in September 2016, it plans to open 14 more greenhouses over the next four years. [fastcoexist]